The Retreats @ Padstow Holiday Park
A Warm Welcome from the Barnes Family
The Barnes Family proudly own and run Padstow Holiday Park and have done for over 20 years. We are dedicated to creating a beautiful, peaceful and relaxing park, providing the perfect location for a luxury holiday home on Cornwall's North Coast.
In addition to creating a lovely atmosphere for customers, we care deeply about the environment, both in terms of energy usage as well as creating a rich a varied habit for a wide range of animal and plant life.
The Retreats @ Padstow Holiday Park holds an AA 5 Pennants certificate of excellence 2023.

Padstow Holiday Park Map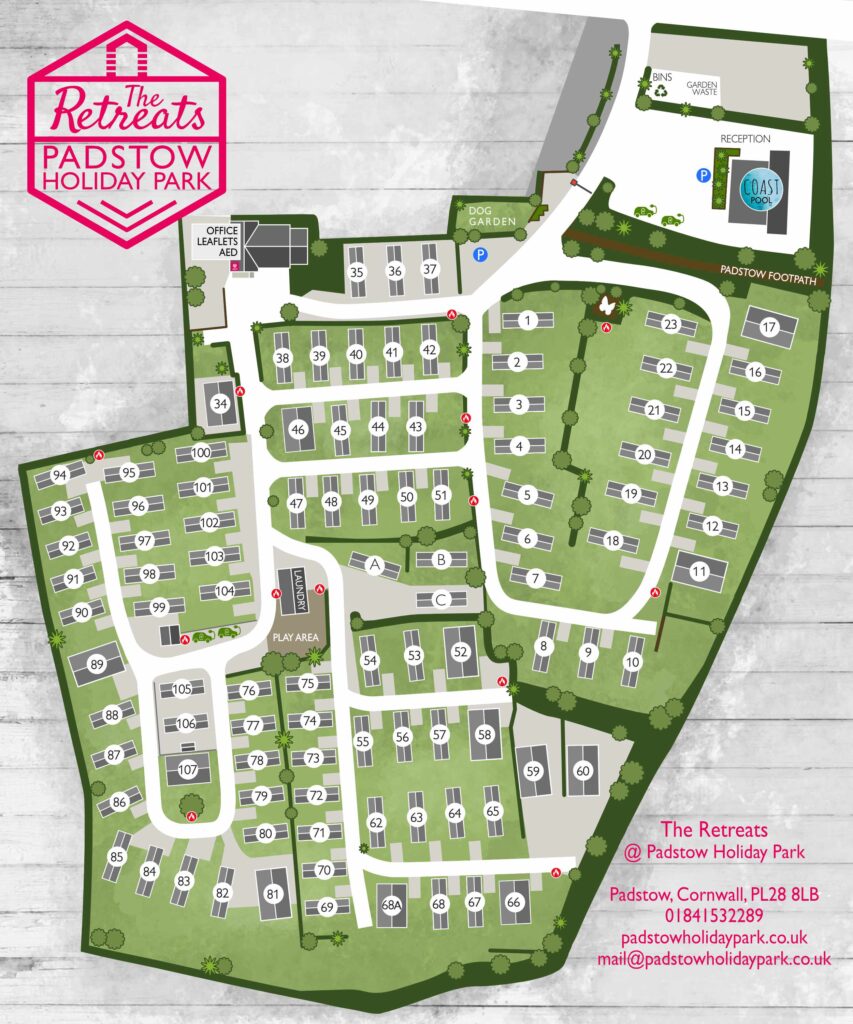 Coast Swimming Pool
Padstow Holiday Park has a beautiful indoor swimming pool. Being 20m long the pool is ideal if you are looking to swim some lengths during your holidays. The separate baby pool means it is suitable for children of all ages. Our pool is open throughout the year for our residents.
Children's Play Area
We have a children's play area on the park, with towers, slide, ropes and climbing wall. A great space for smaller children to have some fun.
Electric Vehicle Charging Points
We have four electric vehicle charging points on the park.
Laundry
Padstow Holiday Park has an on site laundry, with washing machines, driers and hand washing facilities.
Dog Friendly Padstow Holiday Park
Padstow and the surrounding area is great for a dog friendly holiday. As dog owners ourselves we love being able to take our furry friends almost everywhere we go. Most of the beaches allow dogs all year round. Many of the fabulous pubs, cafes and shops all welcome our four legged friends and many attractions and gardens are dog friendly too.
Dog Excercise Area
Quiet and peaceful park
Footpath off the park to Padstow
Countless amazing walks around Padstow
Dog friendly beaches close by
Pet friendly restaurants and shops
All dogs that stay on our park require a Dog Pass
Leaflet Room & AED (Defibrillator)
On park we have a leaflet area, packed with ideas for days out for the whole family.
Within the leaflet room is a public AED (defibrillator) which is accessible 24 hours in an emergency.
Padstow Holiday Park Season
We are open 11 months of the year. The last night of the season you can stay overnight is the 5th of January to depart during the day on the 6th. We reopen on the 7th February.